Did you know October is ADHD Awareness Month?
Our coaches dedicate their time to learning and keeping up to date with new research and best approaches for supporting individuals with ADHD and executive function skill-related challenges. Building on your ADHD Awareness is one of the most important things do do when you or a loved one has ADHD. Visit the ADHD Awareness Month site here. There are also many opportunities to participate in free programming to support your learning as well. ADDA's TADD talks is one of them.
TADD Talks:
As an adult with ADHD, you need reliable, science-based information about your ADHD. That's why the Attention Deficit Disorder Association (ADDA) brings 31 of the best experts on adult ADHD together to provide you with proven facts and programs on how to manage ADHD. They invite each expert to give a "TADD" Talk. A riff on TED Talks, TADD Talks are short (half the length of a TED Talk – because, you know, ADHD!) Each talk tackles a different adult ADHD topic every day during the month of October! We are thrilled to be a part of TADD talks again this year and presenting on: '"Making US with the ADHD Work: Four Essential Steps to Uncomplicate Your Marriage."
Sign up right now to receive your daily dose of TADD Talk goodness. You can check out the schedule to see when I'll be speaking here.
WORKING AND LEARNING FROM HOME
With the Pandemic changes still in place, you may find working and learning from home remains a challenge. Here we share two helpful articles featuring Coach Robin on CNN:
If you have ADHD, here's how to manage working from home
How to help children with ADHD thrive in a virtual schoolhouse
UPCOMING PROGRAMS AND COACHING OPPORTUNITIES:
Looking for more support? Workshops and Group Coaching provides some great options...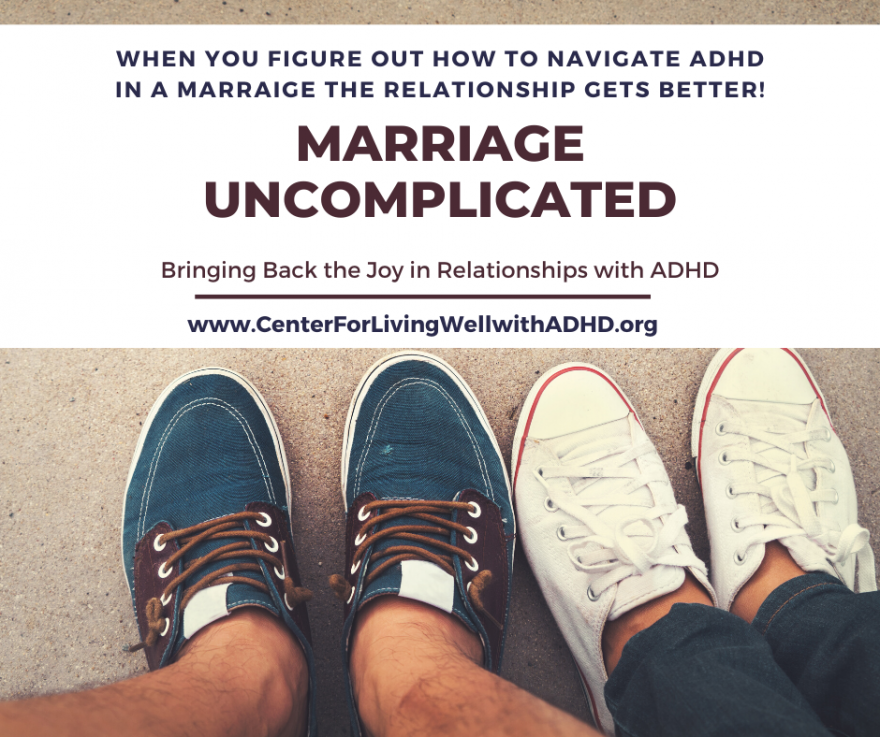 MARRIAGE UNCOMPLICATED:
Bringing Back the Joy in Relationships with ADHD
Workshop and Research Study
Our workshop meets on Wednesday Evenings
[ 7:30 pm ET | 6:30 pm CT | 5:30 pm MT | 4:30 pm PT ]
Our next workshop is October 14th - December 9th, 2020 (Skipping Wednesday, November 25th, Follow up session arranged in early January).
Two couple spots remaining - Click here to learn more and register.
---
'Adulting' with ADHD Group
Calling all millennials! This group is for ADHD folks in their 20s and 30s seeking new, ADHD-friendly approaches for getting started and completing projects, maintaining a decluttered home space, setting a regular sleep schedule, time-management, incorporating creativity, and lots more. This group meets on Tuesdays at 8:00 am - 9:30 CT, [9:00 am ET | 7:00 am MT | 6:00 am PT] Two spots left! Click here to learn more.
---
Masterful Living with ADHD Group
This group is designed for those with a fairly good understanding of ADHD and a desire to continue integrating ADHD-friendly life hacks, skill-building, and strategies to boost personal effectiveness and quality of life. It's also a perfect next step for those who have taken our ADHD Classes. Participants will focus on their own unique goals and leverage their strengths, as they work on the strategies, skills and mindset to create the life they desire. This new group is on Thursdays at 5:30 pm CT [6:30 pm ET | 4:30 pm MT | 3:30 pm PT]. There are three spots left in this group. Click here to learn more.
---
Curious about working with a coach one on one?
Visit our Meet Our Coaches page and schedule a complimentary Get Acquainted Session.