Dear Center For Living Well ,
Happy, happy days as we say goodbye to winter and embrace the spring! For us, it feels more like the true reboot to a new year. The birds are back, the flowers begin to bloom, the air is fresh and you can get outside without first bundling up. We wish you a wonderful new spring and the very best in the remainder of your month of May. Read the four minute tidy ups below and we hope it gives you a new strategy to try out. Consider the really cool book club and coaching circle we are piloting for June. Or, check out our other events coming up.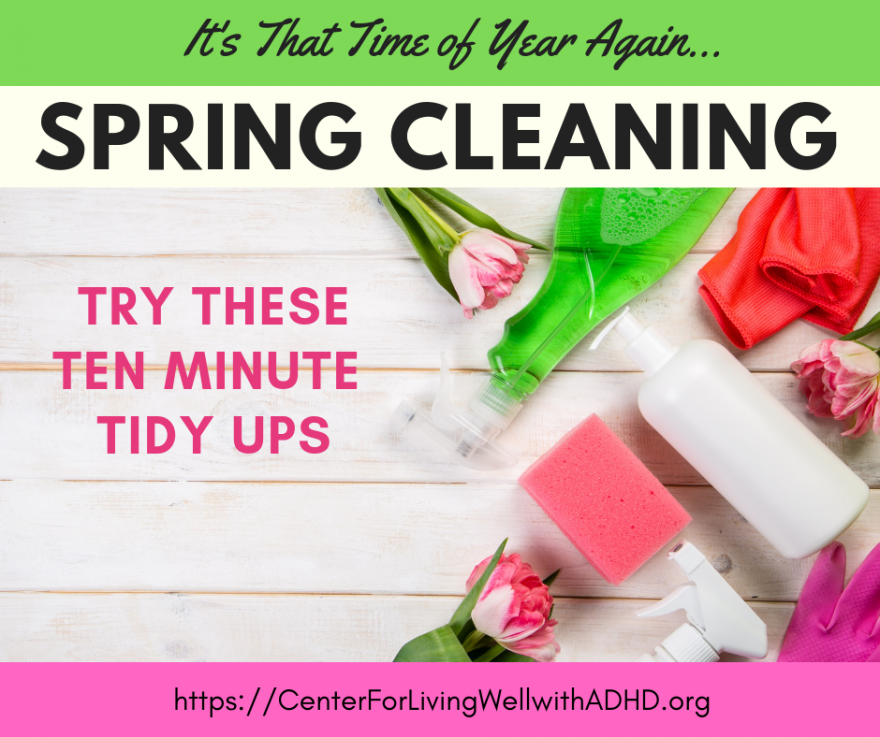 Four Approaches for Ten Minute Tidy Ups…
It's that time of year again…spring cleaning! And after you devote extra time to spring clean or deep clean areas of your home or office, the focus is maintaining the results. Here are a few ideas that helped me along the way to keep my environment clean and orderly on a routine basis.
Bathroom Blitz – Create a clean-up bin to store under the bathroom sink or cabinet. You could also use a shelf in a nearby closet for the guest bathroom. Store all the supplies you need to clean your bathroom from ceiling to floor. Set the timer for 10 minutes and go. I also used this as a cleaning kit, with the steps written on the side of the bin for my child's Saturday chore.
Beat the Clock – If you love a challenge, competing with the clock can help you get engaged and stay focused. Set the timer for 10 minutes and see how much you can get done to tidy up the room. The key is to stay in the room you are cleaning. Don't let yourself wander. You can run misplaced items to their respective rooms when the timer goes off. I found this really helpful with keeping the kitchen in order, and wouldn't stop there. I would reset the timer for another ten minutes and head to another room.
Less is More – Too much stuff can feel overwhelming and daunting to maintain. It's difficult to keep rooms in the house orderly and inviting when they hold too much stuff. Grab a trash bag or bin. Visit a room and try to find 5-10 items in the next ten minutes that are no longer appealing, functional, or recently used in the past 6 months. What can you get rid of? Then throw away, donate or repurpose for a better use in your home if it still has some value.
Tackle the Big Jobs in Small Steps – What comes to mind when you need to clean and organize a space overrun with clutter and disarray? Maybe it's "This will take me forever and I just can't deal with that right now". Or, "I have too many other things to do, and I don't have time for this." Yet, a clean and organized space makes getting things accomplished easier. Try this approach: Before you take everything out or get started, begin with the end in mind. Take ten minutes to visualize the room and result you want. Sketch it out, identify on your sketch what belongs where. Remove the things that don't belong. Trash, misplaced items, and so on. Then take on in smaller ten minute segments focusing on a specific area or categoriy to work with. This tip is great for office spaces, garages, or those places in your home where you dump everything you don't know what to do with.
Upcoming Events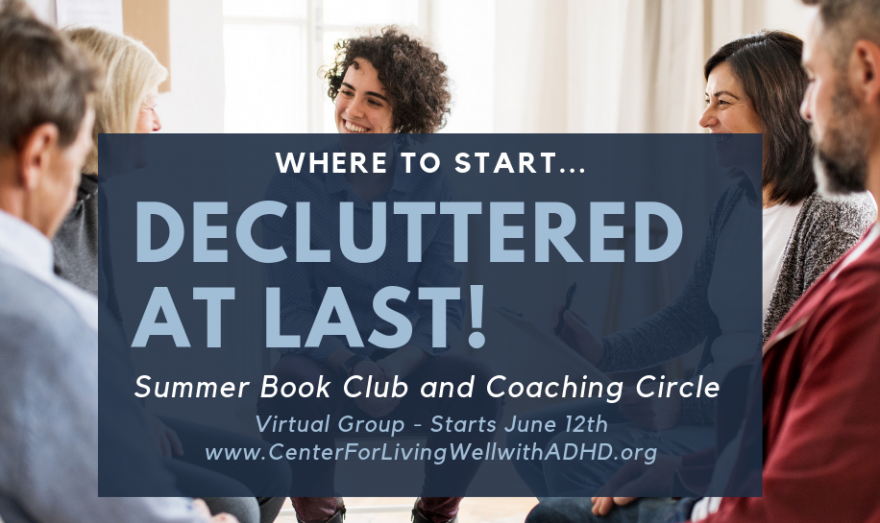 Are you ready to tackle the clutter and disarray? You don't need to go it alone. These ideas and more in our virtual Summer Book Club and Coaching Circle starting June 2019: DeCluttered At Last! Let us help you out. Visit https://www.centerforlivingwellwithadhd.org/summer-book-club-.html.
More events offered as well. Visit us at https://www.centerforlivingwellwithadhd.org/upcoming-events-and-programs.html to check out our calendar and see what's new.
All our best,
Robin, Kay and Katherine