Greetings From The Center For Living Well with ADHD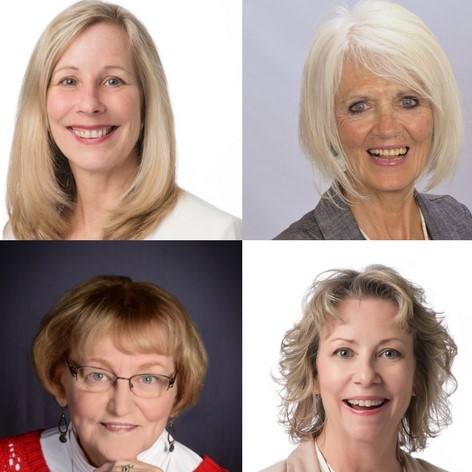 February 2018 Newsletter
We often bring up the topic of love in terms of self-compassion and embracing who you are to experience a higher quality of life. Love is a very powerful emotion. Sometimes, it may seem easier to love others, while struggling to accept and love ourselves. Here's a favorite quote by William Goodwin,
"Love conquers all difficulties, surmounts all obstacles, and effects what to any other power would be impossible."
In this issue, we talk about the importance of building on self-awareness as the first, most important step for turning life around with ADHD. Most importantly, to build on it in a way that expresses love, compassion and acceptance of yourself. Are you ready to put a little love into your life this year?
Here's to loving your life in 2018! Robin, Kay, Katherine and Joyce.
Feature Article:

Are you looking to experience a better year with managing your ADHD? The very first and crucial step is to build on self-awareness. This step can make or break how well you live your life with ADHD. It is the starting point for changing your experience, improving your quality of life and achieving your desired goals.
You might be thinking: "Look, I'm already well aware of what it means to have ADHD. Thank you very much! " Maybe you are, but my guess is you are more-so aware of all the problems and challenges you have had to endure as a result of having ADHD in the first place. Would you tell me about the awkward situations, the problems you face, the troubles you seem to cause, your feelings of overwhelm, guilt or shame? Would you tell me sometimes you are often misunderstood, suffer in silence or even have started to believe you are lazy, crazy or stupid? Would you describe ADHD as your worst nightmare or curse?
In this article, I am not talking about getting down-in-the-weeds with your Self-Awareness. I am talking about building on a stronger sense-of-self in a way that serves you better. The process begins with an accurate self-assessment of strengths and ways you are wired to do things best. The objective is to create a better sense of WHO you are and HOW you are Wired to Win!℠.
True, you will need to summon the courage to assess and address the challenges that come with having ADHD. You will need to be willing to work on strengthening some skill sets. You will need to be curious and apply some more effective approaches. But the best part of all, it's TOTALLY doable. By doing so, you will empower yourself to live well with your ADHD and leverage your true capabilities to contribute in big ways to yourself, your family, friends, and the world.
This higher-level thinking builds on understanding, compassion and embracing what is actually right and working well for you in life. It's discovering the way you are Wired to Win!℠ and the secrets to how you are designed to live and approach your life. This level of Self-Awareness is crucial with respect to how YOU experience life with YOUR ADHD and the secrets to your success come from within. Operating from this level of self-awareness impacts your choices and actions for how you care for yourself, talk to yourself, advocate for yourself. It helps you to better understand what's going on with your own version of ADHD. It contributes to your levels of self-esteem and confidence. Ultimately, in turn it makes or breaks you.
Upcoming Events and Opportunities:
Support For Adults with ADHD: Sign up for the next Brilliant Me! Wired to Win with Adult ADHD Workshop, This is a small support group that allows you to learn about your ADHD and how to manage ADHD related challenges in ways that leads to more joy and success. Click here to learn more.
Support for College Students: Is your college student needing a little extra support with their studies? Right about some students begin to fall behind or struggle with balancing a heavier workload in school. Click here to learn more about a complimentary webinar to help them get back on track.

Our Centers are located in Minnesota, Colorado, and Texas. We coach with clients all across the nation in-person or by computer or telephone. The best way to find out if coaching is right for you is to schedule a complimentary, no-obligation, Get Acquainted Session with the coach of your choice. This is your opportunity to ask questions about ADHD and explore if coaching together would be of benefit.
Click here to meet our coaches and schedule your Complimentary Get Acquainted Session