Brilliant Me! Wired to Win with Adult ADHD Workshop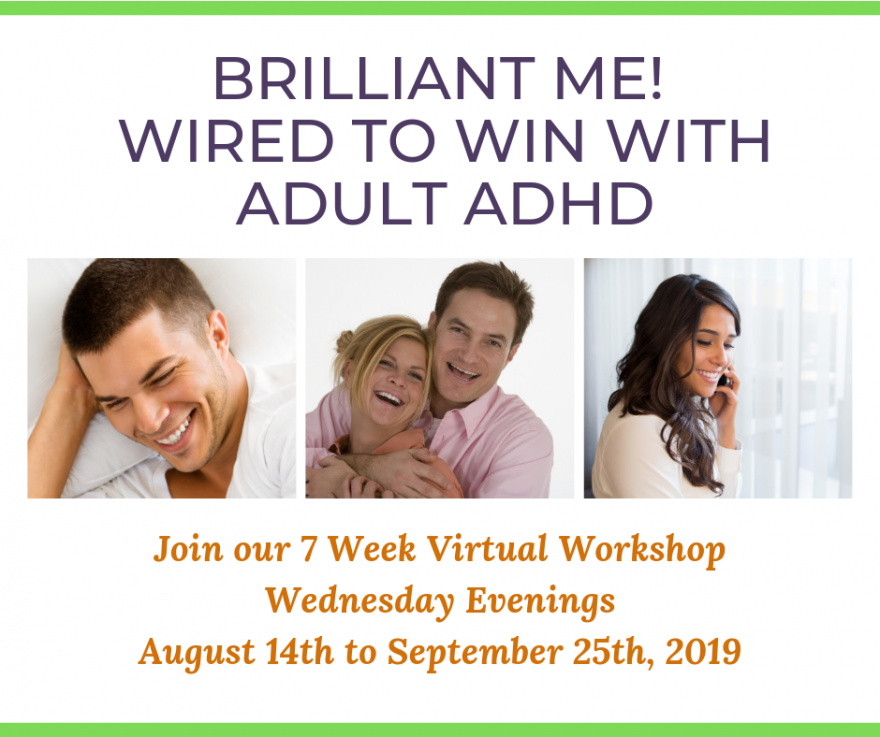 7 Weeks, Wednesday Evenings
August 14th - September 25th, 2019
Starts 7:30 pm ET, 6:30 pm CT, 5:30 pm MT, 4:30 pm PT

During the workshop, you will have the opportunity to:
Understand ADHD and how it uniquely impacts you.

Identify strengths and the ways YOU are wired to win!

Strengthen your time management skills

Establish meaningful and realistic goals as well as plan and act on them

Discover how to maximize lifestyle to minimize the symptoms of ADHD

Explore strategies to address overwhelm, and procrastination

Learn and use an effective tool to help you plan, prioritize and get more done




Our group meets virtually for seven sessions online. Weekly meetings allow us to connect face to face (or by phone if desired) to get acquainted and support one another in the journey. Working in small groups is a beneficial part of your learning. Relate with others like yourself. And, receive the coaching support you need to move forward in life from our group of highly experienced ADHD Coaches. Each session is focused on developing step by step skills around time management, plus many other topics to help you understand and make the most of your life when you have ADHD:

facts and myths of ADHD

,

how your ADHD brain thinks differently

executive function skills and ways to strengthen


strengths based living approaches

organization strategies with paper piles and more

goal setting, planning and prioritization


overwhelm, situational anxiety and procrastination

how to use motivators and mindset in your favor


choices, communication strategies, people pleasing and more...
Our Adult ADHD program includes:
Seven Weekly Sessions

New topics presented each week with

coaching activities and discussion

Planner Workbook, Weekly Handouts and additional resources

Follow up observations or assignments each week

Extra support and encouragement from your coaches and the group.

Space is limited to a small group to maximize your opportunity for support and interaction.

Miss a session? We want you there, but life happens. When it does, we'll share a recording to catch you up.

Your Investment:

Just Imagine! Over a period of seven sessions you will receive coaching and interactive group support while working on new skills, systems and strategies to begin experiencing more success and peace in your life and change the way you live with your ADHD.
How would it feel to really 'get' how your brain works?

What could result from using more of your strengths and unique brain wiring in positive ways?

Would your life be a little easier and more enjoyable if you could minimize the impact of your ADHD symptoms?

What difference would you experience if you could manage time easier to avoid unnecessary upsets and frustration?

How might your self-esteem and confidence change if you were able to start, persist and finish with goals and intentions?
Don't let ADHD define you or negatively impact
the life you are intended to live.
Sign Up Now To Save Your Seat!
Brilliant Me! Wired to Win With Adult ADHD - Full Pay | $347