ADHD Classes and Workshops
Now Enrolling ...
Next Masterclass - Productivity and ADHD on April 30th
Two Small Adult Groups Start-Up in May - Masterful Living and Adulting with ADHD
---
Adult ADHD Masterclasses
These classes are an easy way to get started with taking small steps towards bigger transformations. The classes cover important topics and actionable ideas to live well with ADHD. All classes are 90 minutes, followed by a 7-day take-action challenge to help you apply what you learn to your own unique situations. Receive complimentary access to our coach-supported private community with the challenge.
Our Next Masterclass:
Productivity and ADHD
Saturday, April 30th, 2022
11:00 am Eastern | 10:00 am Central | 9:00 am Mountain | 8:00 am Pacific
Click here to learn more about Productivity and ADHD
---
Multi-Week Workshops
Our multi-week workshops range between 3 to 9 weeks and are concentrated on themes that may be of some challenge. We are currently enrolling for:
Productive Days starting April 19th
Money Calm starting May 1st
Mindfulness and Emotional Regulation starting in May
Productive Days for ADHD Professionals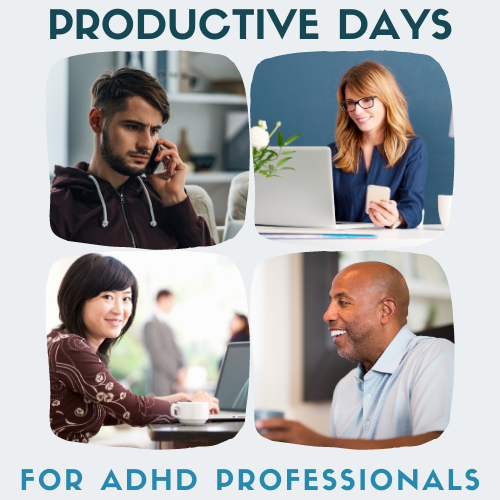 The Productive Days for ADHD Professionals group is geared to working professionals or entrepreneurs who are interested in boosting their day-to-day productivity and effectiveness on the job. This is an excellent program if you are looking for an opportunity to hone some new skills and strategies to address the saboteurs that can derail your day. Our program is a combination of online learning, live Q&A, coach-supported sessions, and group collaboration. The next group starts on April 19th, 2022
Click here to learn more and save your seat
Money Calm


In this group, you will have the opportunity to:
Simplify your finances

Get the full picture of where your money is and where it goes

Accountability for paying bills/following through

Establish automatic money habits to save for the future

Understand how ADHD shows up in money management




Take action during group time
Click here to learn more and save your spot!
Mindfulness and Emotional Regulation
Starting in May. More on this program will be posted in the coming few days. Meanwhile, please email Victoria@ADHDCoach.life to learn more about the program.
Disclaimer: Coaching Services are not to be used as a substitute for professional advice by legal, medical, mental health financial, business, spiritual, or other qualified professionals. We encourage our clients to seek independent professional guidance for legal, medical, psychological, financial, business, spiritual, or other matters. All decisions and actions in these areas of support are exclusively the responsibility of the client who acknowledges that decisions and actions as a result of coaching services are their sole responsibility.